The planning process in Ireland can be a complicated drawn out affair that can leave you frustrated and disheartened. We at John Morrisson Consulting Engineers are here to assist you throughout the process.
FAQs
Planning Permission FAQs
Q: How long will it take before I get my planning permission?
A: After six or eight weeks of your application being validated by the planning authority they are entitled to request further information. From the date of your response to this further information you will have to wait one month before the planning authority will make a decision.
Q: If I do not receive my planning permission from the Planning Authority is there any other form of action I can take?
A: If the planning authority refuses to grant planning permission this does not mean, as most people seem to believe, that you will not get planning permission on your development. You can appeal the Planning Authorities decision to An Bord Pleanala who can overturn your local Planning Authorities refusal and grant your permission.
Q: What happens if there is an objection to my planning application?
A: Objections can be lodged by a third party against the planning application. If an objection is made, the objector is notified of the council's decision at which stage they have a further 21 days to appeal the council's decision. Details of the fees will be outlined under planning authorities decision to grant permission form
Q: Are there any legal requirements that I will need before applying for planning permission?
A: It is very important that you have all legal requirements in place regarding site boundaries etc. If you are not the owner of the site it is important that you get a consent letter from the registered owner agreeing to the sale of the land to you on granting of your planning permission.
Q: Who can help me with drawings/plans and lodgement of my Planning Application?
A: We at John Morrisson Consulting Engineers can help you with design of your development, then liaise with the Planning Authority on your behalf and complete your Planning Application for you. Call us today - Tel 058 59960
Q: What parts of Ireland does John Morrisson Consultant Engineers cover?
A: We cover Counties. Waterford, Tipperary, Cork and Limerick for planning applications.
Q: Do I need to sort out my finances before going for planning permission?
A: It is highly recommended that you check with your mortgage lender, broker or bank before you purchase your site and before you go for your planning permission so as to ensure that the funds are available from initial design stage to house completion.
Q: I have received my grant of permission. When do I send in the commencement notice?
A: After you receive a decision to grant you must wait four to six weeks for your final grant of decision. Only at this stage can you send in your commencement notice stating your intention to commence work within fourteen days. This is done via the Building Control Management System, with an opt-out facility available from full certification for one off houses and extensions.
Q: What does my Building Contractor need to comply with?
A: The house design and the specification should be to building regulation standards. Once you get your grant of permission the relevant authority in your area will have passed these house designs. At this stage you should make sure that your contractor or builder fully complies with the building regulations and fully constructs the dwelling in compliance with these regulations. It your responsibility to ensure compliance , therefore you are advised to engage an engineer or similar professional to advise you in the course of construction.
Q: Do I need to obtain Insurance?
A: Your mortgage company will usually insist on you having insurance cover but in cases where they do not it is important to have appropriate cover in place should any problems arise.
---
Contact John Morrisson Consulting Engineers Limited now for more information at:
email - info@jmce.ie
telephone - 058 59960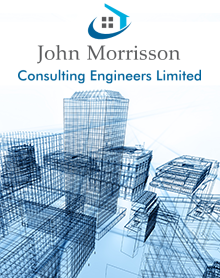 Online Shop
Why not visit our brand new Online Store where you can browse a large selection of plans and purchase the plan of your choice. It will be delivered immediately to you via email.